NCC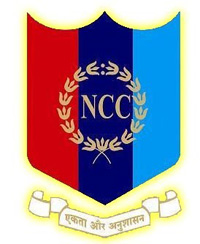 About NCC
The National Cadet Corps (NCC) is a youth development movement. It has enormous potential for nation building. The NCC provides opportunities to the youth of the country for their all round development with a sense of Duty, Commitment, Dedication, Discipline and Moral Values so that they become able leaders and useful citizens.
National Cadet Corps is a Tri Services organization comprising the Army, Navy and Air Force engaged grooming the youth 'The Leaders of Tomorrow' in to disciplined and patriotic citizens. NCC is a premier youth organization which functions directly under the Ministry of Defence. It functions at a National level to train the young students to be better citizens and future leaders of our country.
AIM
• To develop character, commandership, discipline, leadership, secular outlook, spirit of adventure and the ideals of selfless service amongst the youth of the country.
• The create a human resources of organized, trained and motivate youth to provide leadership in all walks of life and always available for the service of the nation.
• To provide a suitable environment to motivate the youth to take up a career in the Armed Forces.

MOTTO

The Motto of NCC is "UNITY AND DISCIPLINE". In living up to its motto, the NCC strives to be and is one of the greatest cohesive forces of the nation, bringing together the youth hailing from different parts of the country and moulding them into united, secular and disciplined citizens of the nation.

NCC Flag
NCC Flag Contains NCC Crest in gold in the middle, with the letters "NCC" encircled by a wreath of seventeen lotus with a background in Red, Blue and Light blue. Red depicts the Army, Deep Blue depicts the Navy and Light Blue depicts the Air Force. The seventeen lotuses represent the 17 State Directorates. "Unity of Discipline" (Ekta aur Anushasan) is written at the bottom of the NCC Flag.

BENEFITS OF NCC

(A) Employment field:-

• N.C.C 'C' certificate with 'B Grading' holder cadets are directly appear for SSB in Indian Army as Commissioned officer
• NCC cadets are given preference in enrollment of soldiers

• 'B' & 'C' certificate holders are given preference in state police service
• 5% reservation for Gp 'C' & 'D' post (State Govt /undertaking)

(B) Academic Field:-
• C.G. Board offers Bonus marks to NCC cadets in Class 10 and 12
• 2% & 5 % bonus marks are given to NCC cadets at college level admission

(C) Scholarship for NCC Cadets:-
• Sahara Scholarship- Rs. 6000
• Cadets Welfare Society Scholarship- Rs. 6000
• DG, NCC Scholarship- Rs. 6000

NCC in College

Intake:-


• Authorised strength of the Senior Division (Boys) is 56
• Every year in first year of NCC Training new cadets are enrolled, which is equal to the number of cadets passed C Certificate exam last year, plus number of drop outs if any ie. Total Authorised strength is maintained as above.
Facilities:
• Sufficient space for office and store room
• Space of Parade Ground
• Well experienced teaching staff i.e. Associate NCC Officer and Visiting P.I. Staff for Field training and Weapon Training
• Teaching aids - 01 Dummy Rifles, Different Charts and other required aids.
• Availability of Audio Visual aid facility in college Auditorium

Social Service :


Social service activities besides regular parades and camps following social activities organized by NCC Unit.

1. Blood Donation Camp
2. NCC Day Celebration
3. Adventurous Trekking
4. AIDS Awareness Rally
5. Voters Awareness Campaign
6. Road Safety Week with RTO
7. Traffic Control Programme- Volunteering
8. Tree Plantation Programme
9. Social Awareness Rally

Achievements:
In 1985, Sgt. Sanjeev Gyani and in 2011 UO Tejram Deshmukh were awarded best cadet in India in Army wing NCC and detailed by India Government under Youth Exchange Programme. Under this programme Sgt. Sanjeev Gyani visited Canada for three months and Tejram Deshmukh got chance to visit Singapore, Malaysia and Thailand.