Genesis Of RCS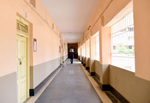 Seth R. C. S. Arts & Commerce was established in the year 1964. It is managed by the District Education Society Durg. In 1962, Seth R. C. S. Law college was established with a donation of Rs. 50,000/- by Seth Ratan Chand Surana in the name of his wife Smt. Sakhar Bai Surana. All this was possible with the relentless effort of Shri Ratnakar Jha, the first president of District Education Society Durg. After that Seth R. C. S. Arts & Commerce College was established in July 1964. First principal of the college was Shri W. Y. Rardke. The object of starting the college was to cater to the need of higher education in society. In the beginning it is started as a commerce college. The popularity of the college enhanced day by day and in the year 1969 Arts faculty was also started. Now college became Arts & Commerce College. Later, looking the demand of other courses the college started many more courses. Today Seth R. C. S. Arts & Commerce College running BA, B.Com, B.Lib., B.P.Ed., M.A. Political Science, M.A. Economics, M. Com., M.Lib., PG Diploma in Computer Application and PG Diploma in Yoga Education & Philosophy Programmes successfully.
To promote the research activities Research Centre in Political Science was introduced in the year 1996. Under the guidance of Dr. D. N. Suryawanshi more than 50 Students have been completed Ph.D. Dr. Pramod Yadav and Dr. Ayasha Ahmad also registered as Ph.D. guide in Political Science.
To encourage the students many awards are given to them. The students getting the highest score in Arts, Commerce and Physical Education are given the award in the memory of Kumari Sulbha Pattalwar, Shri Ajay Agrawal, Shri Mangal Das Nagaria, Dr. Bhagwati Prasad Gupta, Shri Gopal Singh Yadav, Freedom Fighter Shri Ramji Mishra and Shri Damodar Prasad Tiwari.
In 1985, Sgt. Sanjeev Gyani and in 2011 UO Tejram Deshmukh were awarded best cadet in India in Army wing NCC and detailed by India Government under Youth Exchange Programme. Under this programme Sgt. Sanjeev Gyani visited Canada for three months and Tejram Deshmukh got chance to visit Singapore, Malaysia and Thailand.
The history of the college in the field of Sports has also been appreciated. Tikendra Sahu played for Indian Kho-Kho Team in Kho-Kho Test Match played between India and England at Jaipur. Bhuvneshwar Sahu participated in Indian Kho-Kho Coaching Camp. Again Tarun Yadav got opportunity for umpiring in Hockey Asia Cup (Under 18) in Dhaka, Bangladesh. There are many such students who have made the college proud in different fields.